I am a member of a club that I really don't want to be a part of. A group of moms (yes of course fathers too) who lost a child or children. Not a single person, on this earth, should be a part of this group. No One. Today is National Bereaved Mothers Day. A day to recognize and give support to those strong mamas who have a gaping hole in their heart that will never go away. Those moms who have had to say good bye to their babies way too early. The moms who carry the love for their children, no longer in their arms, but in their hearts.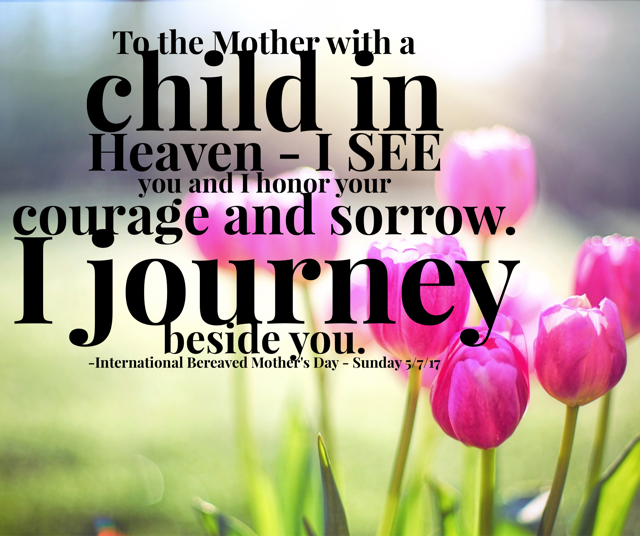 Yesterday we decided to have a fun family day at the zoo. It was a beautiful day! But as I sat and watched my husband and son run around the playground having fun, I soon recognized that deep, ever so recognizable pit in my stomach. I watched all these moms running around with their small children, holding and kissing their babies, and making sure they had their little's in sight. And for that moment that hole in my heart was ever so present. I wanted to be running around with MY sweet little Brecken while Daddy and Easton had their fun. I did not want to be sitting here. But the more I thought about this, the more I thought about how I probably am not alone here.
My family also attended a wonderful Children's Hospital Memorial service this afternoon. We got to bring a picture, read Brecken's name out loud, and light a candle for him alongside families for 70 other children who have passed away all too soon. After the service we released butterflies. And I got to meet a few other bereaved mothers who, unfortunately, are on this grieving journey with me. And whether I be at the playground, the zoo, the grocery store, or a special event I know I am not alone.
This "club" I talk about is not a real club. Its not formal. Its just a name I give it. But the mothers I have met, that are a part of this group.... They Are Amazing. They are the strongest women I will ever know. These women are understanding and loving and welcoming. They are always there to lend an ear or give a hug. And, well, these moms JUST GET IT. They get the pain and sadness that come along with that gigantic hole in our hearts and follow the same (yet so different and individual) rocky path of grief moving forward.
I do not want to be a part of this club. But I am. And although the sacrifice and heartache that cost me my membership, I need this club now. If there is any place where I feel connection and understanding, these are my people. I want to hear their story. I want to know about their children and how they lit up this world just like Brecken did. And I want to be there for them, just like I know they will be there for me. I am on this journey right along side them no matter where we cross paths.
Today is to recognize and acknowledge that you Mamas are STRONG. You are AMAZING. You are COURAGEOUS. You are BEAUTIFUL. And to those Moms I have in my life, I am glad I do.
You are NOT alone.